yesterday i went to Senayan City to meet my high school's friends..
wow, we havent met for like 6 years?!
hahaha... isnt that weird, we're living at the same city but havent met for 6 years?
it's crazieee....

hahah.. how i really like tako so much..
at first i hate the taste, but now it;s so addicting..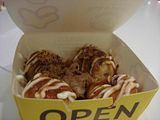 me, bobby , and Afni...