090617 Going to Japan
eh, just a short 'vacation'? XD and now they went there for Nagoya concert...
Jae with his smiley shirt...kkk...
and some JAESU hints rite there... hahaha... Junsu was standing beside JJ all the time.. *diess*. I seems abandoning my yoosu fandom.. ahh yoochunah, dont be mad at me okay... love ya.. hahaha...
JAESU looked tired and still managed to looks so delicious.. WHYYYYYY!!
SO NOT FAIR!!!! T______T
AHHHH JAESUUUUUUU~~~~~~~~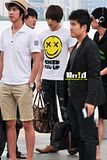 these 2 are my fave pics... i dunno why,
but JAESU looks so extremely YUMMY with their sleepy looks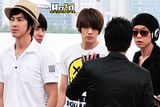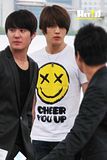 credit : astagged + junsoobaidubar + mr.tvxq
shared : http://mywickedplace.blogspot.com/