090509 No More Wheelchair

for Junsu @ Saitama ^_^
credit : wickedinutopia @ YT


Junsu's cute green outfit..
kkk... so adorable.. nooo it's not an insult.. he looks so cute, really..^_^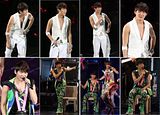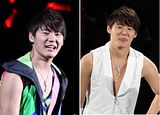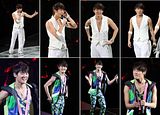 credit : mr.tvxq + http://mywickedplace.blogspot.com/

*


콘서트 리허설중인 3일에 다리를 다쳐, 4,5일 코베 공연에서는 휠체어로 등장했던 한국 댄스 보컬 그룹「東方神起」의 준수씨(22)가 9일, 「사이타마 슈퍼 아레나」(사이타마시)에서의 공연에는 처음부터 자신의 다리로 서서 출연했다.

준 수씨는 춤을 출 수 있을 정도까지는 회복되지 않았지만, 보행은 가능해. 멤버들과 무대를 걷는 등 팬들을 안심시켰다. 부상의 아픔을 느낄 수 없는, 자유로운 가성과 아름다운 하모니는 존재감이 충분했다. 작년 섣달 그믐 NHK 홍백가합전 첫 출장등을 거쳐, 성장한 모습으로 팬들을 매료시켰다.

동방신기는 이 후, 센다이, 후쿠오카, 오사카 등을 돌아, 7월 4, 5일에는 최종 공연으로「도쿄 돔」(도쿄도 분쿄구)에서 첫 단독 공연을 열 예정.
i will make a summary abt this, so it says that Junsu got his leg injured on May 3, causing he had to do the concert on a wheelchair on May 4-5's concerts. But afterwards at Saitama, he can get rid of the wheelchair. Altough he already can walk and do some easy dance steps, you can see that he was actually holding back the pain, tried his best.
oh dear, uri babo Junsu...
get well soon okay, dont push yourself too hard..
btw, finally 3 Junsu's HD fancams has already been downloaded..XDD
there's one fancam with 1,4 GB that's actually a super duper high definition's Rising Sun perfm. fancam @ SM Town '08!!
HAHAHAHA... im dead while watching it..XDDD. it's only a 3 mins fancam...but it's so CLEARRRRR... XDD. Thanx xiahsoul... *diessss*