Moon Geun Young says,


" TVXQ Is Not Just a Beautiful Idol"
okay, im not gonna spazz about
18th High1 Seoul Music Awards
, which held today. Coz I guess, it's so yesterday-lah... Finally WG won daesang..LOL. TVXQ just took 2 awards, shared the same awards with BB.. X.x. (Bonsang(Favorite Award) and Mobile Popularity Award), honestly, i never know about this award before... hahaha... is it something important? XD *bricks*. Glad TVXQ went to Japan straight... hahha... Thanx to SHINee for receiving the award on behalf of TVXQ..
I just wanna share you this article that i found on DNBN. Moon Geun Young said, " TVXQ is not ust a beautiful idol" on her cyworld. She put Beautiful Thing on her BGM list and praised Junsu alot.. hahaha...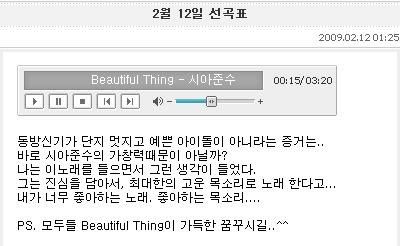 credit : DNBN
*sorry cant give you the translations, i just came from gym, and sleepy..T^T